Many people have hobbies and things that they're good at. I was never really good at much growing up, not to be too hard on myself… but my parents tried to put me in dance and sports and all of these classes when I was younger so I can gain a hobby that I loved. Unfortunately, I didn't succeed at any of it and every new opportunity that they gave me just died. How sad, right?
My main talent that I held really was just being book-smart. I got good grades in school, loved to read and write, and would go to the store and buy puzzle books just for fun.
After I graduated High School, I felt I was just so plain-jane. Trying to make my way through College, I would see girls dressed up in cute and well put-together outfits, walking in high heels like it was second nature, and having such nice hair and make-up. I wanted that!
I was never a "girly-girl". Maybe deep down inside I wanted to be, but I grew up around mostly boys in my family so I really embraced being such a tomboy.
Finally, I was sitting down on YouTube one day and decided to look up Makeup Tutorials. After watching some amazing artists and videos for beginners…. I went on my first haul. (See product reviews below!)
After bringing home all my products, I laid them all out in front of me, sat in front of a mirror, and just started putting things on my face. I didn't follow a tutorial step-by-step, but rather looked at pictures of other people's makeup for inspiration and worked towards achieving that look.
Now trust me, it took some time. This was back in 2012 when I really started practicing my makeup. 5 years later, and I still wouldn't call myself "pro" however, I can boast at the fact that I have gained a lot of skill and knowledge on makeup.. I mean c'mon, after that long of learning and practice, I deserve some bragging rights!
I honestly do not really take or post pictures of my makeup. I don't have a nice camera like the ones makeup artists do, and my iPhone's 'selfie' camera does not do it's justice! Not only that, but I haven't been confident enough to try to show off my work, because what most people consider a "Full Face Glam" look, has turned into my mostly everyday makeup routine and I don't feel like I'm doing anything that special.
I've overheard or come across social network posts of people who say "Why do people wear makeup? Just be natural!" or something along those lines. I honestly love doing makeup, and I was never good at art (as I stated earlier) so this is the most artistic I have ever been and I look at my face as an empty canvas in which I could makeup and be proud of my skills.
It's such a nice feeling to be out in public and have people compliment me…
"Your eye makeup is beautiful!"
"Your eyelashes are amazing!"
"You do makeup so well, I can't believe it!"
These are true comments I have gotten and it's not that I do it just to "Show Off"- I do it because I truly do have a passion for it and makeup has become such a hobby to me that I love to sit down and start work on my face!
---
For all of you who are beginners at makeup or search for advice from someone who's not a major pro (because they can be super intimidating when you're starting new), look at my list below of must-have products and my main tips of applying.
Before I start my list, I must say, makeup is expensive….extremely. So for each target area of the face and my recommended products of use, I will list both my favorite drugstore and high-end brands that have definitely worked best for me!
Foundation
Foundation is so important when it comes to applying a full-face of makeup. Foundations offer great coverage if you have any blemishes, acne, random pesky pimples, or any skin discolorations.
Drugstore:
MAYBELLINE Fit Me Matte + Poreless Foundation
This foundation is my absolute favorite! It has medium coverage and their shade range is so large that I can always find the best fit for my skin-tone at the time of the season. The foundation also lasts me a whole day, and doesn't all sweat off and look crazy if I'm out partying the night away. The best part about this foundation is it retails at just $8 and since it is a drugstore product, there are often coupons or store discounts going on where you can get it even less.
High End:
TOO FACED – BORN THIS WAY UNDETECTABLE MEDIUM-TO-FULL COVERAGE FOUNDATION
The Too Faced Born This Way Foundation has great, long-lasting Medium to Full coverage and a little bit goes a long way! Because of their large range of shades, you will definitely be able to find a shade that is perfect for your skin and this foundation blends so perfectly that sometimes I can't even tell I have foundation on because it looks so natural. This foundation retails for $39 and can be found on the Too Faced website, or at Sephora and Ulta.
Eyebrows
In the more recent years, eyebrows to a makeup look have become so important. When I first started doing makeup, eyebrows weren't so important. Yeah, people would draw them on, but there was not yet any trend for the best shape(s). These days, the way you do eyebrows can really make the look of your makeup. They are often the first looked at, and if you decide to leave your eyebrows out, it makes your whole look seem so incomplete.
Drugstore:
The Makeup Revolution Brow Pomade is my drugstore pick mainly because it is the perfect dupe for my everyday favorite makeup item in the world which you'll see for my high-end option. It goes on easily and does not have too much clutter and clunky build up that will cause a great amount of product to spread all over the place on the brow. This product's application just requires a thin eyebrow brush and your precision in lining straight at the bottom and top of your brows, and filling in the middle. It does come with a brush, which I think is too thick if you are trying to be super precise-which I try to be because I basically have no eyebrows naturally. I will show the brush I use below for my eyebrows. This product goes for $9 and is a total bang for your buck!
High End:
Anastasia Beverly Hills Dipbrow Pomade
Okay y'all- this is my favorite makeup product in the world. This pomade is perfect for my brows. You can control your pigmentation by the amount of product used, the product goes a long way, and it is super long lasting. On top of that it's waterproof and can last through anything… Rain, sweat, even sleep. It does not come with a brush, but they do have a special brush that you can purchase for this pomade which is pretty good. Still not my favorite brush though for brows haha! The Dipbrow comes in many shades that is perfect for your brows and it blends so well. You can really create the perfect brow look. Priced at $18, you can find this on their website, or Sephora and Ulta. I purchase one every 4 months or so.
Eyebrow Brush I use:
JAPONESQUE Professional Angled Brow Definer Brush
It retails on the Ulta website for $13.99 but I promise you I have never paid that price. Ulta always runs great promotions and discounts and every single time I buy this brush I have never spent more than $8 on it. I love how thin the brush is and how precise I can draw my eyebrows on with it. The only con I have to say about this brush is after multiple uses or not so good care, the bristles of the brush start to curl and go out in different directions and is hard to salvage. The best advice I have for care is to wash it regularly and keep separate from your makeup bag so the bristles do not get bent while against other products. There are so many brushes out there though, so I hope you all find your perfect match, this is definitely mine!
Eyeshadow
Finding the perfect eyeshadow palette for your everyday looks can be hard. Especially when a lot of palettes run at high prices ranging from $30-$60 and only feature about 10-15 shades. Also, a lot of palettes that are released have a certain theme to the palette and will have a small amount of basic colors, but more colors that are dramatic and sparkly to fit the look.
I do not have different recommended products for either drugstore or high end, but a universal, everyday eyeshadow palette that is perfect for beginners.
Morphe 35O – 35 COLOR NATURE GLOW EYESHADOW PALETTE
The Morphe 35O Palette is by far my favorite. It has all of your neutral shades ranging from your nudes, to browns/reds, to blacks, and it even includes a shimmer for each hue. This eyeshadow is so easy to apply with barely any fall-out (meaning that the shadow won't dust all over your face when applying) and with 35 shades, you can create all sorts of looks. Not only that, but this palette will last you for a long while because of how many shades there are. You have 35 colors and this palette goes for a whopping $23 on the Morphe website. But wait! Morphe often runs sales on their products for large percentages off, so check frequently for a sale and score this product for less than retail. Right now, you can only purchase it online but there are rumors that Morphe will be sold in stores at Ulta. This has not yet been confirmed but we're crossing our fingers for it.
*Side Note!!: Some larger malls (ie. Westfield Malls) have vendors selling Morphe products at their stands in the middle of the mall. I used to work at the Southcenter Mall here in WA and one of the girls that worked there got fired. We got to talking while waiting in line for Teriyaki at the Food Court and she told me that all their products are fake. I have no proof, but I would be aware just in case.
Mascara
Mascara is amazing for so many reasons. I mean it can make the most tired eyes look so alive. It can bring out even the dullest eye colors (like mine- super Dark Brown) and it just adds so much jazz to any makeup look. I'm not going to rant on about Mascara because we all know how great it is!! See my preferred products below.
Drugstore:
L'Oreal VOLUMINOUS® Lash Paradise Washable Mascara
If you've ever heard about the Too Faced Better Than Sex Mascara, then this is the perfect dupe. It is almost exactly like it, if not real close. If you haven't heard about either item, these mascaras add extreme length and volume to your eyelashes to make it look like your either wearing falsies or have extensions in. They are also very long lasting and perfect for those who want to do a natural look and still have popping eyelashes without the dramatic effects of falsies. Online, L'Oreal's Lash Paradise sells for $9.99, however as I mentioned earlier, drugstores very often have sales where you can get this item discounted. I bought mine for $5.99 at Target.
High End: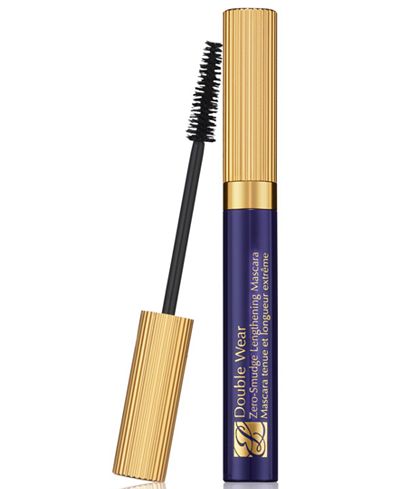 ESTÉE LAUDER Double Wear Zero-Smudge Lengthening Mascara
I have been searching for years for a mascara that is long lasting, easy to apply without having to put 14574851+ layers, and makes my lashes look amazing!!! Just as in the name, this mascara is smudge proof which I confirm is 100% true. I often will put some on before I go to the gym so I don't look so dead and tired, and it doesn't come off with sweat, even after some time in the sauna. I have very puny natural lashes- without makeup I look like I have no lashes at all so this mascara helps my natural lashes to come out and easily separate to make them even look full. This product is retailed at $27.50 and can be bought on Estee Lauder's website or through Sephora for $26.
Concealer
Concealer is ESSENTIAL for MY makeup looks. Some of you may be lucky enough to not need concealer but I naturally have dark circles and bags under my eyes and being a new mom does not make it any better. I use concealer to brighten my under eyes and hide my bags and wrinkles, as well as use it to line my brows to add better dimension and really clean up my brow look.
Drugstore:
I honestly prefer the L.A. Girl HD Pro Concealer over ANY concealer, including all high end branded items! The coverage is full and application is so easy. I put this under my eyes and down my nose and it seriously makes me look so awake and brightens up my whole look. It is an amazing product- and get this…. I get mine for $3 each. On LA Girl's website, it's selling for $5 and there are not so many drugstores that sell this product. I was able to find it at Target when I was out in Los Angeles for vacation, but haven't had any luck at bigger stores here in Seattle. Luckily, there is a beauty supply store called Beauty Direct (near Southcenter for my local readers) that carries them for this great price!
High End:
URBAN DECAY Naked Skin Weightless Complete Coverage Concealer
Okay, I still stand strong by my statement that LA Girl's Pro Concealer beats any concealer I've ever used, but Urban Decay's NAKED Concealer comes pretty darn close! The best part about this concealer is it can cover up all of your dark circles, bags, or any other imperfections but still make your look so natural. There is a great range of shades for you to find your perfect fit. I love how there is no build-up on this product so never does it cake together or start to streak when you sweat….or even if you cry (whether your sad or just yawning out tears). This product retails for $29 either on Urban Decay's website or through Sephora and Ulta.
Contouring (Advanced)
I didn't start contouring until about 3 years after I began practicing makeup. I would watch tutorials and didn't feel comfortable doing it myself and I remember trying a couple times and I looked like a clown that had packed on random brown colors on my cheek. Once, I even put some on and my mom asked me if I got beat up because it was so dark on my face. *Shaking My Head* Luckily I was confident enough with how I looked without contouring that I didn't need it to have a good makeup look. These days though, contouring has become so natural that you won't see me not contour if I go out unless I decide to wear zero product on my face. I'm reviewing contour kits only below. Of course, you can go purchase individual bronzers for contouring, but for beginners, it is best to just have a full kit that can you start with to practice.
Drugstore:
First of all, if you are just starting out doing your makeup I cannot stress enough how much you NEED to check out the E.L.F Cosmetics Brand. Their products are super affordable and have such good quality. Aside from makeup, their skincare products are even great quality and do the work. If you want all your basics to cost less than $50- purchase from E.L.F. Now for this contour kit, it features 4 shades. Your "bronze" shade used for sculpting, a lighter paler shade for cleaning up the bronze and brightening up your under eye and under your cheek bones, another bronze shade used for additional sculpting or blush, and a highlight shade for all the high points on your face. This palette sells for just $6 and can be found at any drugstore. I got mine from Walgreens on sale for $4 and keep this in my car due to how compact it is compared to my other kit.
High End:
Anastasia Beverly Hills Contour Kit
Here it is……if you are learning makeup and decide you want to splurge a bit on just one item out of all, this is the item I suggest you do it on!!!! This kit is my baby (other than my actual baby…my son). It comes in different shades: Light to Medium, Medium to Tan, Tan to Deep and it is powder based. It has three different bronze shades which I personally mix for my contour, a couple brighter shades for clean-up and the under eye, and a highlighter. I personally do not use the highlighter in the kit because I like my highlight extreme, but I always hit pan on every other shade. The reason I say it's okay to splurge on this item is because with the range of bronzers and shades, it can truly last you so long. I buy only 2 kits a year and I contour almost everyday. This product sells for $40 online through the ABH website or Sephora and Ulta, however, I have gotten these on sale at Nordstrom Rack for only $25 occasionally. When the Rack has these on sale, it usually is a walk in doorbuster and you'll only find this price if you get lucky.
Okay all, those are my product reviews for purchases for beginners. I threw in the reviews on the contour kits because I think once you have contouring down, it becomes such a rhythm that it becomes part of a daily makeup routine, but I listed it as advanced because it is not necessary if you are just starting out!
---
For additions onto your makeup looks that are much more advanced for a beginner and definitely optional, I would purchase the following:
Makeup Brush Set- Of course to apply all this makeup, you're going to need tools to do so. I recommend starting out with a makeup brush set that has anywhere from 10-30 brushes for your face and eyes. You can usually found great deals on Groupon or Amazon where you can get large kits for less than $20. Higher end brushes usually cost that much for just one brush.
Makeup Primers- I buy primers for both my foundation and eyeshadow. It's great to have a base for your products and it helps your look last longer.
False Eyelashes- If you want to make your look more dramatic and feel that mascara just doesn't do enough for you, I highly recommend purchasing lashes. I use Ardell and Kiss Lashes. You can get them at drugstores and all cost about $3 a pair.
Highlighters- If you really want your look to glow I recommend using Highlighters for the high points of your face, especially at the tip of your cheek bones. When the light hits these points, you literally shine.
Lip Products- Whether you're buying a lipstick, lip stain, or gloss (colored or not), the variation of lip colors can add some extra POP to your looks. I've been doing makeup for years now and still do not wear lip colors unless it's a very special occasion. I am good on just chapstick and clear gloss personally.
Makeup Setting Spray– Once you're done with your makeup, a setting spray will help keep everything in place. Back in the day, they used to say use hairspray to set your makeup… eventually they came out with products that serve this purpose only.
---
Doing makeup is not easy, and no matter how many YouTube Tutorials you watch that look so easy, it's going to take some practice. I'm still learning new things to this day and like I said in the beginning, I am not a pro by any means.
I am really excited that I was able to share this post! I really hope you beginners can use this as a shopping guide when figuring out what products to purchase. There are literally thousands of products out there, so it's always nice to have reviews so you don't have to research each and every one being overwhelmed and frustrated.
I hope you all enjoyed my post including my product reviews!
Love,
Alyssa